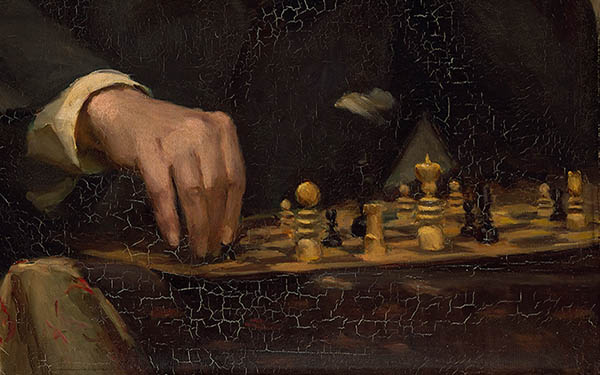 GIVE THE QUINTESSENTIAL CHESS GIFT
PHR's masterpiece, Chess in Art, celebrates 800 years (1100-1900) of chess-themed artwork—400 brilliantly reproduced paintings, drawings, and reliefs to inspire the soul, delight the senses, and challenge the art historians among us.
Bruegel, Caravaggio, Delft, Delacroix, Israel, Oppenheim, Picou, Tyre—just a handful of the more than 700 artists represented. With meticulous attention to detail and design Raabenstein pays rightful homage to these varied and remarkable talents.
10+ years in the making, this extraordinary compilation, this rare artistic gem also honors the fine art of quality bookmaking with richly milled stock, satin sheened pages, and gorgeous hues— all crafted with chessboard precision.
This 10 ½ x 10 ½'" square, this sui generis volume, 1.8 lbs., 300+pages, will grace and educate coffee tables and bookshelves alike. For Christmas, Hanukkah—for whatever you celebrate—or just for sheer joy of holding and enjoying this unique and understated unparalleled creation, buy it. Is it too pricey at around $100? Truth? It's worth double.
We are reminded of James Joyce who, when asked how long it should take to read Ulysses said: "Well, it took me 7 years to write it; should take you at least that long to read it."
Thank you, Mr. Raabenstein, for how Chess in Art will enhance our next 10 years. And for the volume yet to come.
Purchase at www.chessinart.com. A selection of photos of/from the book follows.